Pakistani foods are influenced by the regional and historical foods of South Asia. Different regions of Pakistan give different flavors to the Pakistani cuisines and altogether make a vast variety of savors. Sindhi, Balochi, Khyber Pakhtonkhwa, Gilgit Baltistan and Punjabi dishes have no doubt specific flavors which are matchless, all of these cuisines are readily available in restaurants in Karachi, Lahore, Islalamabad, Peshawar, Quetta and all other cities in Pakistan. Mughalani savors also add richness and royalty to Pakistani cuisines. This cuisine is also an inheritor of Indo-Aryan and Muslim culture. A food lover must try the diversity and uniqueness of Pakistani dishes.
The main elements of Pakistani dishes are spices and different types of oils which give a perfect aroma and fuller mouthfeel to the consumer. Cardamoms, cloves, cinnamon, mace, nutmeg, black and red pepper, cumin seeds, bay leaves and turmeric are the main spices used in these foods. Here are few Pakistani foods which worth dine, take a look:
Halwa Poori: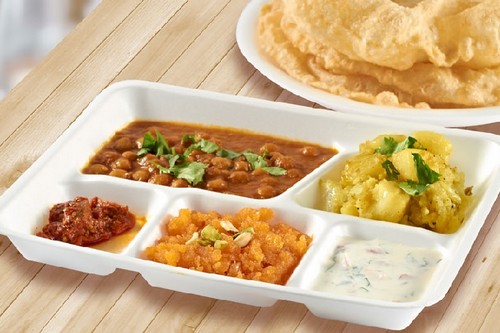 Halwa poori is one of the favorite dishes in Pakistan. It is a dish which is mostly eaten as breakfast. Halwa is basically a dessert which is rich in oil and eggs with Sooji (a form of wheat flour) or Basin (gram flour) as a basic ingredient. Poori is a chapatti of fine flour or maida which is deep fried in hot oil till golden brown. This is served hot and loved in all areas of Pakistan, but to get the best of the taste it would be best to scout for a restaurant in Lahore or Karachi.
Siri Paaye: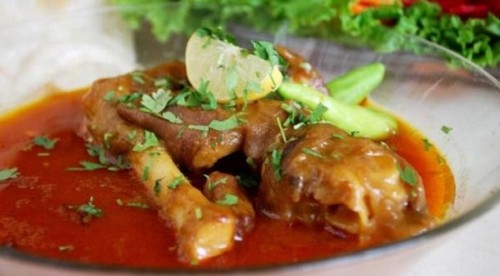 Siri Paayeis a dish which is mostly eaten in breakfast. People also like to eat this dish in winter as it comprises of hot soup. The main ingredient is head and feet of lamb or cow cooked overnight to make its soup. It is considered very healthy dish for bones. The bone marrow is eaten which gives instant energy. It is served with Naan. Some of the popular restaurants that offer Paaye include Fazal e Haq Siri Paaye in Lahore and Karachi.
Nihari: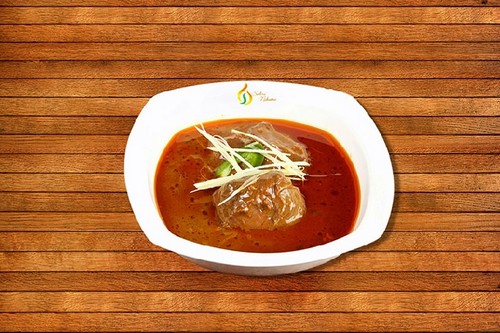 This is a dish mostly eaten in Punjab. In this dish, meat is cooked overnight to make extremely tender. Thick soup is made and served with a topping of fried onions, chilies, coriander, lemon juice and garlic. Most of the people like to add maghaz (Brain) and nalli (bone marrow) of cow or sheep in the soup. Nihari is basically derived from a Persian word "Nihar" which means "day" or "day break". It is traditionally made with lamb but a meat substitute of chicken or cow can also be used.
Peshawari Chappli Kabab: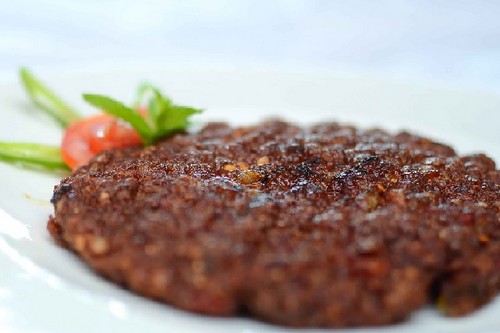 Peshawari chappli kabab is a famous dish of Peshawar. Meat mince is the major ingredient with lots of onion, tomatoes, garlic, ginger, coriander, chilies, and salt. It is shaped in flat circles and fried. Chappli kababs are served hot with naan or Tandori roti along with green chili sauce and yogurt. It is eaten as a side dish or a snack with tea as well. Peshawari Chappli Kebab is a must have dish in almost all of local restaurants in Peshawar.
Kashmiri Pulao: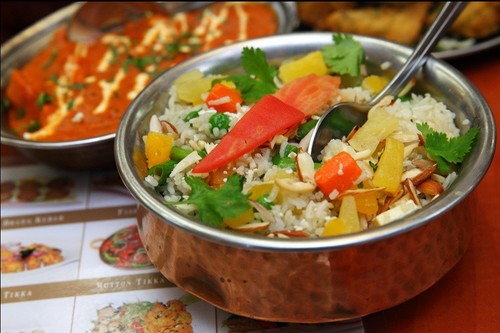 Kashmiri Pulao is a rice based dish in which meat of lamb or cow is added. A soup of meat and bones is prepared in which rice are boiled. Raisins, almonds and cashew nuts are added in the rice while cooking and served with a topping of these nuts as well. This dish is basically originated from Kashmir and liked all over the Pakistan. Unlike biryani and other rice based dishes, this dish is not much spicy but a little sweet.
Dahi bhallay: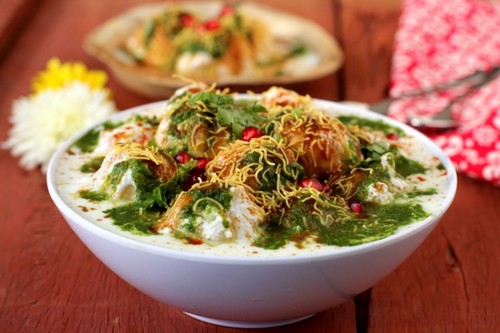 Dahi bhally is a local dish of Punjab, Pakistan. It consists of a bhalla, phulkiyan, potatoes, onions, tomatoes and chilies dipped in yogurt or dahi. This dish is included in snacks and is liked to eat in the evening. Masala which is made of spices powder is used to sprinkle over the plate or serving to make it tasty according to the taste of the consumer. You can find this throughout in Pakistan major cities such as Karachi, Lahore, Islamabad etc.
Nargisi Koftay: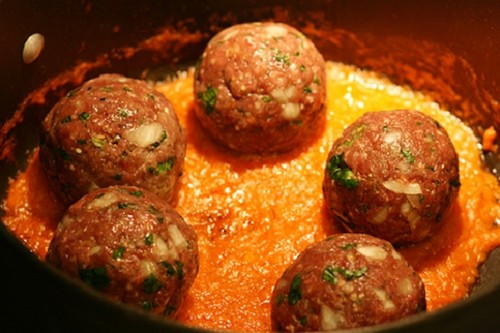 Nargisi Koftay is a dish with meatballs as a basic ingredient. In this dish, the meatballs, unlike other meatballs dishes, have boiled eggs in the center of the balls. Each of the boiled egg is cut into two halves and covered with raw meat mince. These meatballs are then fried till brown and cooked in curry. Nargisi Koftay are served hot with shredded green coriander leaves and eaten with naan or roti. This dish is prepared on special occasions like Eid or family festivals and liked all over the Pakistan.
Haleem: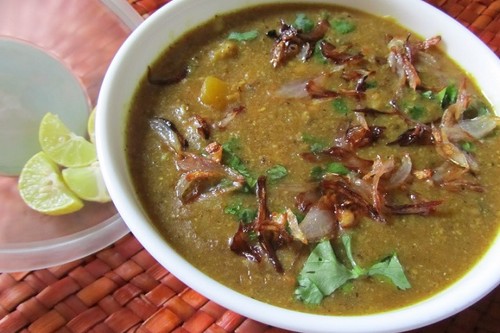 This dish looks like brown soup, but actually is a blend of lentils and meat. All of the lentils are soaked a day long and then cooked overnight on low heat. Haleem is basically derived from the word "Daleem" which means "mixture of daalain (lentils)". Meat is also blended in the soup by intensive cooking and a pudding like material is formed. This dish is served with cut chilies, fried onions, coriander, garam masala, ginger and lemon juice. Traditionally, it is made in a large quantity and sent to neighbors and relatives and friends as gift.
Kheer: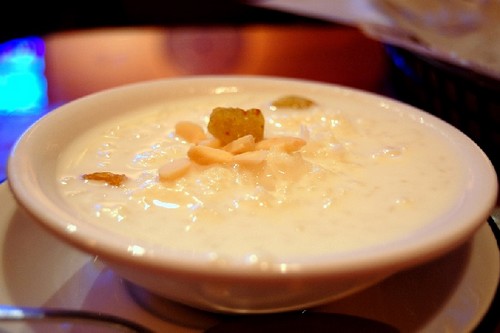 Kheer is a rice pudding dessert which is cooked eid or weddings or as a sweet dish after meals. It is made by cooking rice till very soft and then milk and sugar are added to it. Lots of dried fruits and raisins are added to add flavor to the dish. It is served both hot and cold. The serving bowl is again garnished with crushed nuts and raisins. The dish is mostly cooked on special occasions like Eid or weddings. It is the most liked dessert of Pakistan.
See also; 10 Most Popular Winter Drinks in Pakistan.
Gajrella: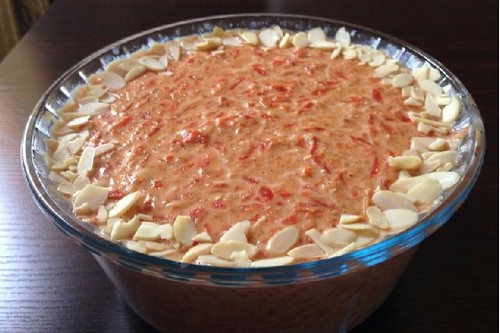 It is a classic wedding dessert. The main ingredient of this dish is Gajar or carrots. Carrots are grated and cooked till very soft. This dessert is also prepared in milk and sugar is added. Very condensed, rubbery form of milk called Khoya is also added to the carrots along with desi ghee. Lot of dried fruits are added to the dish and served hot. It is mostly cooked in winter when carrots are easily available. The dessert is full of energy and gives a mouth fuller taste of carrots.
There are so many other dishes of Pakistani cuisines which are known for their taste. Most important thing about Pakistani foods is that it is Halal food and no pork or any other haram item is added to this cuisine. Both spicy and sweet dishes are very unique and the taste is inimitable. If you ever visit Pakistan or Pakistani cuisine, you must try all of these dishes. Good luck!